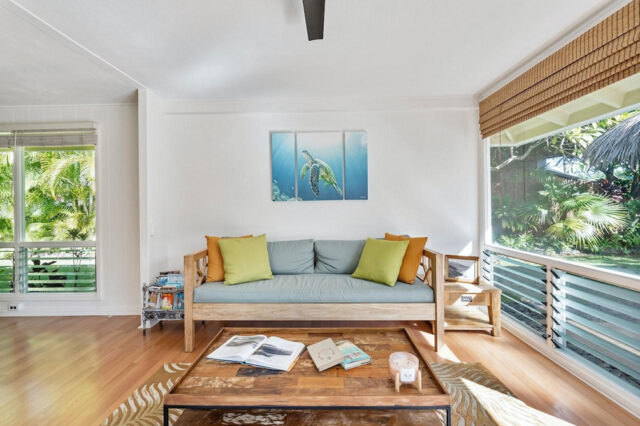 Almost all Cosmopolitan magazine and home improvement sites intensify the idea of having a sleek and welcoming home by blending with nature. Nothing can so revive and uplift your and your home's spirit and feel like incorporating a few mesmerizing nature-inspired things into your current home design. Those homeowners who also prefer to keep in mind sustainability and conservation are well aware of the vitality of inserting a nature aspect into the home.
Whether you are a fan of greeneries and Mother Nature's elements or you merely wish to implement a green home makeover, both you and your home can benefit from biophilic interiors. Biophilic design is a cutting-edge new trend that signifies the importance of bringing the outside world in. If you are eager to blend the natural world with interior design and create something truly remarkable, here are some of the ways you can be connected to nature more and have in intervening your home.
Let the house come alive with a living wall
For centuries people have proven that inner peace and tranquility lie in nature. By pushing forward to bring nature to your home you embrace the chance of having an all-green, all-tranquil state that can fruitfully enrich your home's design. The biophilic design focuses on incorporating lush green elements into your home. Hence, the genius and the most astonishing idea could be to have a whole wall filled with trees and bloom. There are many ways to achieve this, one could be to place plants and let them grow upwards the wall and create a stunning living wall, other would be to have a tree inside the terrarium with moss and other plants that would be attached to the walls. Whatever the case, live art wall installation would be an amazing feature in any home.
Revive the premises with fresh blooms
One of the most practical and utterly environmentally-friendly ways to bring nature inside your home is to place fresh blooms. By placing vivacious and multicolored flowers around your home you would contribute to adding an eclectic vibe without much effort. Depending on the season and weather, you can alter your fresh home décor design, for instance, you can first buy beautiful autumn flowers to place in the living room to evoke this season in your nature-inspired home. Aim to ravish the ambient with traditional autumn hues like red, orange, and yellow, and don't mind playing with flower selection. Roses, sunflowers, petunia, and other fresh seasonal blooms can utterly upscale the atmosphere of your home and alter its apparel in a blink of an eye.
Place a plethora of plants
Those who don't want to have their entire wall embellished in plants and planters can still integrate the biophilic design into their home with a simple but effective hack – placing potted flowers. Plants can charm any ambient all it takes is to plant them in some exquisite ceramic or vintage pot and scatter it around the home. This is one of the most practical alternatives available, especially if you don't want to go all in, but would still love to have your home ravished with planters. Nowadays numerous amazing home plants will automatically make your home look graceful and alluring. Think fiddle-leaf fig tree, the majestic philodendron, the masterful palm tree, and many more.
Lush up the bathroom
Those who have the space, money, and vision can create a perfect outdoor bathroom with flabbergasting nature-inspired walls such as wooden pallets decorated with other organic elements instead of plain tiles. Embellishing the outdoor shower with fabulous tropical plants would immediately lush up your bathroom. Stylish and sleek, outdoor showers represent a great biophilic design however not all homeowners have the ability to create one outside. Luckily, you could re-design your interior bathroom to make it more nature-inspired. Go for the glass design of the bathroom, change the color and pattern on the tiles into warm and earthy tones, and again place a living wall in the shower. Another option is to place a great big tree or small plants around the bathroom.
Opt for a green but Bohemian flair design
Some people reckon that bringing nature to a home would be too much work, however, one of the simplest ways to get strongly connected with nature is to create a nice view of the outdoors in. Here is where you can significantly alter your home's interior by moving or inserting some greenish items. Change the drapes and curtains with transparent ones to let more sunlight in, then place some inspirational nature elements such as aromatherapy candles placed in vintage copper lanterns. Also, go for plush nature elements like placing cozy cushions, hanging floating shelves with cacti pots, or one large statement green sofa or an Ottoman to serve as a focal point. The key is not to turn your home into a jungle but to exude a timid representation of your connection to nature.
Accentuate with natural shapes
By adding a selection of natural materials, not only the green color or live plants, but you are also able to evoke the natural home design. Another dazzling manner to try out would be to place furniture pieces or other accessories that echo nature's shapes and patterns. From hanging a bull's skull above the fireplace to picking irregular-shaped furniture, there are no limits to what extent you can go to in order to accentuate your home in a more natural way. Make sure that you take inspiration from various nature only and use only handmade pieces made from natural materials such as wood, rattan, wicker, and even stone. Also, try to avoid anything with pointy and sharp corners or straight lines.
Let the sunshine in
The very best way to bring nature to your home is to have as many earthy elements as possible. Nothing beats natural light. Waking up your inner self and blending the natural world in your home to achieve serenity and mindfulness can only be achieved by getting more sunshine and fresh air in. For that matter, open the windows on a daily basis, draw the curtain, promote proper airflow, and don't have clutter all around the house. By not having a stuffy room and an overcrowded ambient, you will create a splendid outdoors inside your home. If you happen to have a large glass wall overlooking the garden, clear out the view and let your eyes regularly marvel at the sight.
Transform your veranda
Anybody lucky enough to have a glorious terrace or veranda ought to maximally use up the space and make it even more sensational. The best interior design tip for incorporating biophilia in your home is playing with already nature-inspired elements. Let your sunroom or veranda thrive by planting new plants, trimming the existing ones, and adding more details to make it more welcoming. Verandas and terraces that are already in biophilic design will have a large window as an enclosure but also would be open. Place a dining table and chairs, or add a romantic sofa or two to create a mesmerizing reading corner.
Create your private herb garden
Not many people have the opportunity to have a garden area, big or small, but they shouldn't despair, as now you can try vertical gardening in almost any part of your home. Until the 21st century, it was unimaginable to have an indoor garden or have a green roof, or anything else similar, but in this modern-day age that has all shifted one way up. Whether you wish to plant n your hallway, living room, roof, or even bedroom, it's all doable. Have your personal vertical herb garden anywhere in the house and evoke great herb smells and never run out of fresh spices for your next meal.
Choose sensuous hues
The interior biophilic design doesn't merely need to be about the plants, but they must in some way remain a central part of nature. Most biophilic public spaces feature a great big tree, but that won't be that plausible at home. As it's hard, if not impossible, to have a large tree inside your living room as an internal part of nature, you can go experiment with a variety of hues to mimic that look and feel. For instance, have all your cabinets in a luscious green hue, or simply choose wood. Ditch everything artificial and man-made, and incorporate more natural, handmade things. Instead of using plastic or cardboard storage solution choose woven or pleated baskets, etc.
Make room only for nature-reminiscent textures
In the end, replace all the plain details and décor with crafted elements and items that reminiscence of nature. Change the bedsheets with magnificent nature-inspired items such as flowers, go for natural materials only such as linen, and hemp, place a cool stone floor instead of basic tiles, choose responsibly things made from Eco-friendly materials like clay and wicker and keep a watchful eye on the planet.
These are some of the best design ideas that you can feel more in tune with nature and adequately bring into your home. As long as you incorporate some of the above-mentioned biophilic ideas, as a true nature lover you would create a sensuous and uplifting home.