Tanzania is a country with a rich cultural heritage, stunning wildlife, and breathtaking scenery. It's the perfect destination for travelers who want to explore the wonders of nature and experience a unique culture. From safari tours to climbing Mount Kilimanjaro, there are many activities to do in Tanzania that are going to make your journey extraordinary.
Whether you're looking for adventure or relaxation, you'll find it in Tanzania. With its diverse landscape and abundance of wildlife, it's no wonder why so many people choose to visit this beautiful country each year. Here are a few of the best activities in Tanzania that you won't want to miss out on!
Useful travel insight before or during the trip
Make sure to buy a SIM card at the airport. With a local number, you can use different apps, like QTaxi (although Uber in Tanzania is also available), and with enough GB you can use Google Maps for orientation.
Exchange money: currently one AUD is worth around 1581 Tanzanian Shillings (TZS). It is fine to pay with credit cards as well, but in case there is some commission involved, why not pay in cash in local currency? Needless to say, don´t leave tips in dollar coins, since locals won't be able to exchange them.
Learn some basic Swahili expressions, since this is the official language of Tanzania, although people speak decent English, they will appreciate your effort.
Bring a universal adapter with you, since the plugs in Tanzania are types D and G, while in Australia it´s I type.
The predominant religions are Islam and Christianity. In both cases people dress conservatively, so make sure to respect the local idiosyncrasy.
Needless to say, the sink water is not for drinking and also the crime rate is significant, so make sure you don't walk alone at night and keep a wallet with money, documents, and other valuable stuff close to you.
Start with the tropical metropolis of Dar es Salaam
This metropolis is a big African financial hub with dusty roads, palms, and splendid buildings. You might not expect a lot from the capital of Tanzania, but there are things to see and explore.
The National Museum of Tanzania: you can see objects from ancient history, and also some newer ones, related to both German and British rule. Also, many ethnographic collections regarding Tanzanian culture are available. For the price of 6500 TZS, it's more than worth it.
Village museum: an open-air museum with traditional dancing is worth a visit if you want to see something more authentic regarding the local culture. The entrance fee is 6500 TZS as well.
Botanical Gardens: eastern Africa has such a lavish nature that it´s not strange that there is an oasis of greenery in the heart of Dar es Salaam. If you're tired of wandering around, stop by this place and take a nice rest. It is free of charge.
St. Joseph Cathedral: the mass is available from 8:30 am to 11 am. This gothic catholic cathedral will remind you of some German cities, but surrounded by exuberant African nature.
Take a walk at Kivukoni fish market: if you want to experience the local vibe this is the right choice. Some of the best seafood comes from here.
Take the best safari tour in Africa
Tanzania is a safari paradise, with the most famous Serengeti national park. The best time to visit it is from July to September when there is a dry season. Rainy season brings along some completely different animals but it's also harder to reach the place. Its benefit can be the reduced price of the lodges and tours though.
A common way of getting to the safari is from Arusha, which is a city where you can go by plane from the capital. If you seek some adventure, you can arrange the safari on the spot, while if you like to plan it more thoroughly, you can schedule everything before the actual trip. Bear in mind that safari tours are expensive and can range from around $150 to $1000 per day (per person).
For such an expensive country, it can seem ironic that so many locals live in poverty, lacking basic education. For this reason, you might want to consider a different kind of trip, more meaningful for the locals and cheaper for you. Volunteering abroad with locals can give you a sense of having done something good while traveling. It's not just giving them a couple of dollars, but instead teaching them English or helping in hospitals. And what is better than doing it in Arusha, the place from where safari tours start?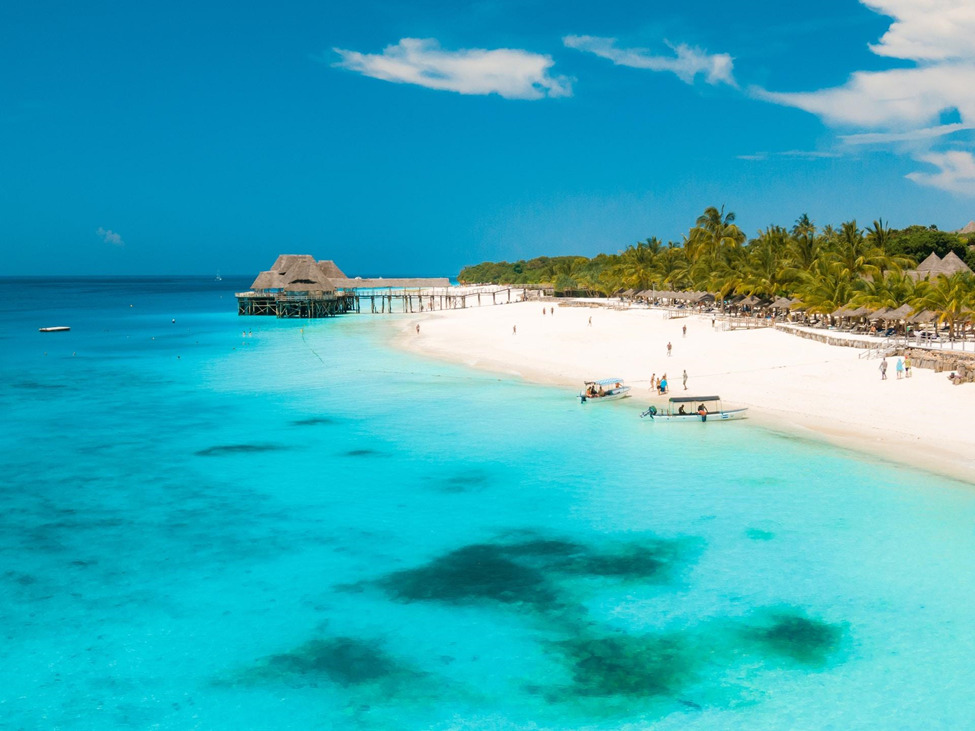 Relax on the paradise island of Zanzibar
Did you know that Zanzibar was once the capital of the Oman Sultanate? Knowing this, it´s no wonder that this island has had such a strong Arabic influence in trade and spices.
Zanzibar Island is the perfect place to relax and unwind. With its beautiful beaches, mix of cultures, Arabic influence, spices, and great food, it is a paradise for anyone looking to escape the hustle and bustle of everyday life.
Whether you want to take a stroll along the beach or explore the local markets filled with exotic spices and goods, you'll find something here that will make your stay even more enjoyable. And with its laid-back vibes and motto of 'Hakuna Matata (no worries), you can rest assured that you'll be able to truly relax on Zanzibar Island.
To sum it up, Tanzania is one of the richest countries in the world, regarding its nature, wildlife, cultural diversity, food, and vast territory. It is very hard to explore the whole country, which is why these suggestions are regarding some of the most famous and best places to see. It is up to you whether you will explore it from a cozy resort or a local home. However, in case you do want something different and more meaningful, think of volunteering options in this country and you might meet some friends for life, while you are leaving your comfort zone at the same time.