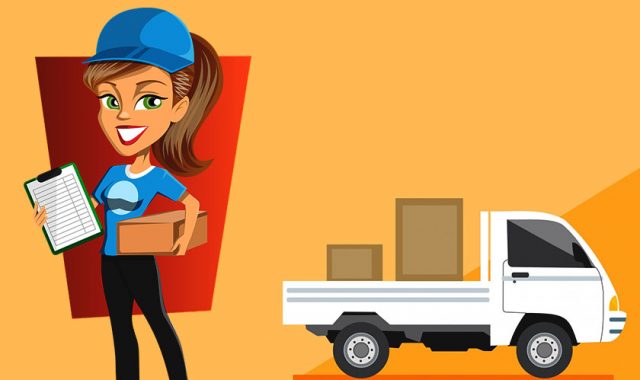 Last Updated on March 13, 2023 by
Courier services, also known as messenger services, specializing in the sending of packages and documents. Couriers transport these shipments either by foot or bicycle or via motorized vehicles such as motorcycles, cars, trucks, and vans. They may also transfer mail and parcels between locations. Using couriers enables companies to send freight at a lower cost than using standard shipping methods.
Some couriers will deliver products door-to-door in countries worldwide with a high degree of reliability and security. Many courier companies provide tracking for each shipment they transport to provide their customers with up-to-date information about their deliveries' whereabouts. In contrast, other couriers might use a drop-off point where the receiver picks up the item in person.
Many companies work with one particular courier to transport their goods in many different countries because of the reliability and low cost that these couriers provide. To ensure that shipments are delivered on time, these businesses communicate regularly with their couriers regarding shipment times, departure dates, delivery information, etc.
Finding the right courier service
A courier business is one of the most competitive businesses in the world today. There are many courier companies worldwide, and you should choose the right one to handle your package deliveries. Specific guidelines will make finding a suitable courier service more accessible, like reviews, recommendations, certifications, and past performance reviews. A professional company will also be willing to give suggestions or advice based on their own experience. You can also check online reviews to find out what past clients think about the different services they offer.
What to look for in a good courier company?
The best way would be to gather information about different courier companies so that you can compare them with each other before choosing which to hire.
Read More: How to Start a Makeup Line? All the Important Information
5 Steps to Start a Courier Business
The courier business is one of the most lucrative enterprises in Nigeria. With over 5million emails being sent daily, the number of parcels being sent has gone up exponentially. Couriers are everywhere around you, just that you don't know them because they look so ordinary.
So what is required to start a courier service? Is it simple or complex? How much does it cost to create one, and how long before I start seeing returns on my investment? Can I work part-time while running my courier outfit? If yes, what are some tips for creating? All these questions will be answered in this write-up. With about N120k, anyone can set up an efficient couriering outfit.
The following are what you need to start a courier service:
1. Reliable car:
A reliable car with no mechanical problems and one that has not been involved in an accident, this will be your "mobile office" and commercial business asset. Most courier services prefer cars for easy mobility and convenience of delivering envois to anywhere in the country.
2. Vehicle Capacity
Your vehicle should have a capacity of about 500kgs if it is to carry packages/envoi/parcels from different origins to destinations. You can take advantage of this capacity by negotiating with freight forwarders such as Linda Ikeji, Konga Cargo, Jumia, etc., who may engage you to deliver goods on their behalf at an agreed cost per km as the outfit.
3. Business license
Get a business license, and you can quickly get one from an online site. If you don't have a place to work from, go for a personal service company license.
4. GPRS SIM
Get a GPRS sim card from your network provider and make sure it is enabled with "Discovery" or "MTezi" services since most delivery items will be tracked using this sim by the freight forwarders (most of them now use smartphones as well as GPRS enabled modems). Ensure that your sim has those functionalities for those who want to use the airtime to track and deliver.
5. Get Orders:
You can now place orders for delivery and wait for your customers to pay so you can spend your suppliers and take delivery of goods
Now you are ready to do business.
What services do they offer?
Ensure that they have a wide variety of services, including same-day service, express delivery, international shipping, and warehousing. A good courier company should handle packages from big or heavy items to documents and parcels sent locally or abroad.
What do messengers do?
Although postal services are usually used to convey letters and packages, which might occasionally take some time to arrive at the destination, a courier company is a professional, all-inclusive service that collects & delivers products in the quickest time possible.
FAQs:
Are their prices reasonable?
Every industry has its price rates, but when it comes to courier companies, their rates can vary depending on who they are delivering for and where the item is going. Various companies have different rates, so before choosing one, you should read up on their terms and conditions for pricing so that there won't be any surprises when you get your bills in the end. As long as you know what to expect, you can decide whether it is worth hiring them or not.
Do they offer emergency services?
Couriers should be able to handle emergency deliveries for essential items such as time-sensitive documents and medical equipment. Since courier services are so competitive, some companies may not offer this kind of service. When picking out a courier company, try looking at reviews online about what experiences other customers have had with the company's emergency services. This way, you will know if it's a good choice before committing yourself to them.
What is their track record?
You can check customer reviews and feedback from previous clients to get a clear picture of how the company performs typically. This will also help determine which courier company to go with.
How efficient are they?
Another thing you should know about courier companies is whether or not they are efficient. After all, it's usually better for a business to have a faster service since speed is crucial for most deliveries. If possible, ask them what their average turnaround time is so you can be assured that your package will arrive on time.
What do they offer in terms of customer service?
Customer service is also an essential factor in choosing a courier company. If there's ever any problem such as delay, damage, or loss of goods, you want someone who can answer your questions and develop solutions right away. A good customer service representative will make sure that everything will get resolved in the shortest time possible.
Can you get on-site support?
A good courier company should provide not only superior customer service on the phone or through email, but they should also be able to offer on-site support. This means that they have the infrastructure and staff to handle emergencies when a client is at their home or business.
Can they provide references and testimonials?
It's also a good idea to request references and testimonials from their past clients. This way, you'll be able to find out whether or not they can deliver on their promises and services. The best courier companies should be able to provide at least three people you can call to find out more about their services and the quality of their work.
Do they have insurance?
Working with an insured courier company is the best way to do business because this will cover you against any losses or