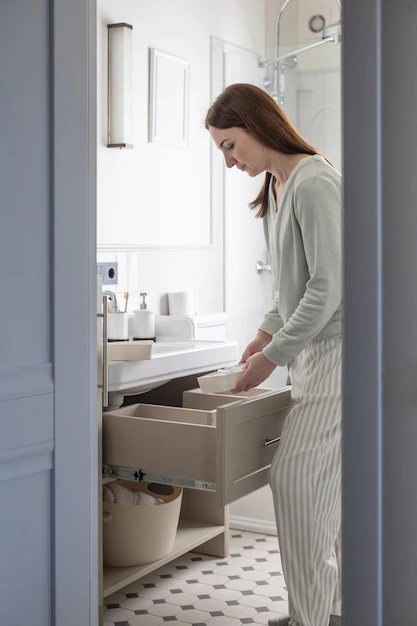 Last Updated on June 14, 2023 by
There are a number of different types of under sink organizers that you can choose from to keep your kitchen organized. One popular type is the over-the-door organizer. This type of organizer hangs over the door and has shelves or compartments for storing cleaning supplies, dish towels, and other items.
Under sink organizers are designed to help you keep your kitchen sink area neat and tidy. They come in a variety of shapes and sizes, so you can find one that fits your specific needs. Whether you're looking for something to hold dish washing supplies, cleaning products, or just a place to store extra towels, there's an under sink organizers out there for you.

1. Decide what you need to store: The first step is to decide what needs to be stored in the organizer. This will help you determine the size and number of compartments needed.
2. Consider the shape of your sink: The shape of your sink will dictate the shape of the organizer. Make sure to measure the length and width of your sink before shopping for an organizer.
3. Choose a material that can withstand moisture: Since the under-sink area is prone to moisture, it's important to choose a material that can resist rust and corrosion. Stainless steel or plastic are both good choices.
4. Look for an organizer with adjustable shelves: Adjustable shelves make it easy to customize the organizer to your needs. You can add or remove shelves as needed to accommodate different-sized items.
5. Choose an organizer with drainage holes: If you plan on storing any cleaning supplies in the organizer, make sure to choose one with built-in drainage holes. This will help prevent moisture build-up and mold growth.
6. Consider adding a door: If you want to keep your under-sink area looking neat and tidy, consider adding a door to the organizer. This will help hide any clutter and make it easy to access what you need.
7. Look for an easy-to-clean design: Since the under-sink area can be difficult to clean, look for an organizer with an easy-to-clean design. Smooth surfaces and removable shelves make it simple to keep the organizer clean.
8. Make sure the organizer is sturdy: The last thing you want is for your under-sink organizer to tip over and cause a mess. Make sure to choose a model that is made from sturdy materials and can support the weight of your items.
9. Consider the warranty: When shopping for an under-sink organizer, be sure to check the warranty. This will give you peace of mind in knowing that your purchase is protected in case of any defects or damage.
10. Compare prices: Under-sink organizers can vary greatly in price, so be sure to compare options before making a purchase. You can find a quality model without breaking the bank if you take the time to shop around.
Follow these tips when shopping for an under-sink organizer and you're sure to find the perfect option for your needs. With a little bit of research, you can find a model that will keep your kitchen looking neat and tidy.