Last Updated on March 13, 2023 by
Moving and living in Ottawa is an excellent decision for your bright future. But what are the things you must consider before moving to Ottawa? So, read the full article to get fruitful information about the topic.
Throughout this article, we will also address some basic questions such as, What is the cost of living in Ottawa? Is it higher or lower than similar cities in Canada? We will help you answer some of your questions concerning Ottawa as you plan to relocate to Canada's capital city.
Location of Ottawa?
It's about a five-hour travel time away from Toronto and about two hours away from Montreal. A part of the Ottawa River runs through the city. It is estimated that the United States border is about one hour's drive south. The nearest border crossing is in Prescott-Ogdensburg.
Information about Ottawa
It was established in 1826 under the name of Bytown and then incorporated with the name "Ottawa" by 1855. The city has grown into a technological and political central point in Canada. At first, it was the city was an Irish and a French Christian settlement; Ottawa is now a city of many cultures with many different inhabitants.
The 2016 census reported the city's population of 934,243. Mercer places Ottawa as having the second-highest standard of living in any city in the Americas and 14th best anywhere globally. In 2017 Ottawa was named by MoneySense as having the top city in Canada where you can live.
Since it is the city's capital with beautiful architecture, Ottawa has a stunning downtown, a bustling downtown core, and a wide range of intriguing neighborhoods.
The weather condition in Ottawa
Being aware of or accepting your local environment is an integral part of life in Ottawa.
Ottawa offers four distinct seasons. Winter is much colder than most immigrants are used to. The cold snaps begin from November to March, with the snowfall occurring from November through March and even up to April. Cold weather can last until April, and wearing appropriate clothing is a piece of crucial knowledge for anyone who is a new immigrant. The average temperature for January can be -14.8degC (5.4degF).
The spring is brief but fresh. A few rain showers characterize it, and fair, mild temperatures typically are between April and May.
The summer heat is scorching, and it lasts from June through September. Temperatures at 30 degrees Celsius (86degF) during the day are not uncommon, and humidity can increase substantially throughout the summer.
The fall season (Autumn) generally runs between September and November and is a great time to enjoy many of the gorgeous scenery in the country.
One of the best things about being a resident of Ottawa is that it is laudable because it is suited to every season to the letter, and life goes on without a hitch despite summer lows and winter temperatures. The winter in Ottawa is an absolute pleasure. It is a great time to visit the iconic Rideau Canal, which is transforming into the most extended skating arena globally. Winter activities are readily accessible, with snowshoeing and skiing easily accessible within 20 minutes from the city's center. Ottawa is home to several public green spaces and parks for summer enjoyment, and the festivals are held regularly as the sun shines. Autumn and spring are a great time to go for a hike or picnic in parks around the city, Gatineau Park on the Quebec side of the city being a well-recognized instance.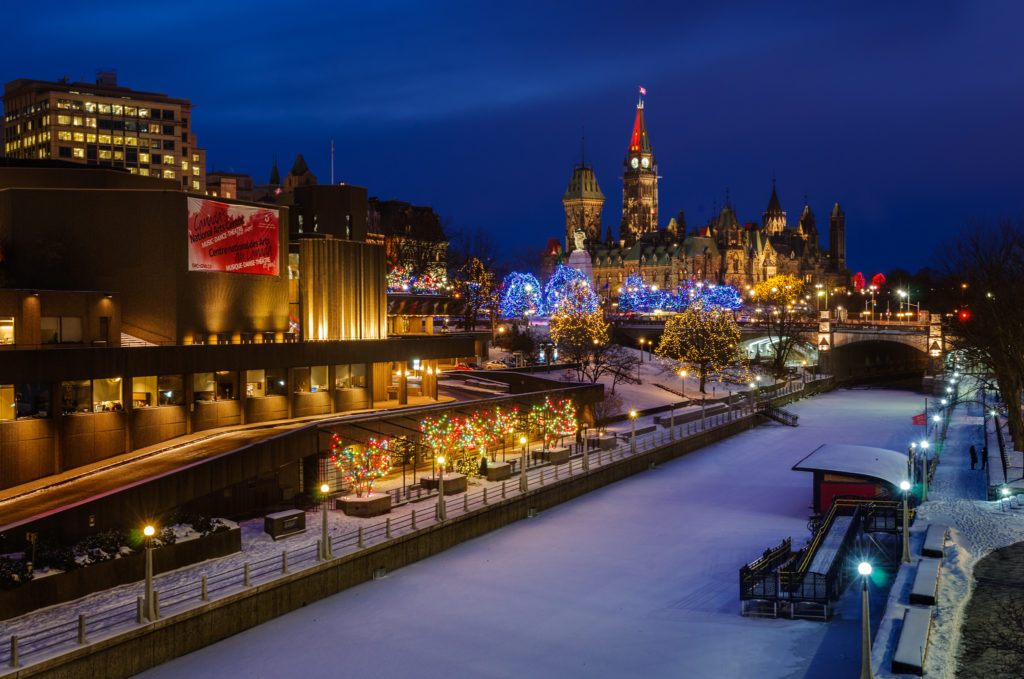 Different costs of living in Ottawa
Ottawa is a secure, clean, welcoming city with an above average and still reasonable price to live in. Based on your location, renting an apartment could vary from $1,200-$1,600 per month or more for a one-bedroom apartment and even higher for three-bedroom homes. However, more affordable homes can be found mainly due to the existence of the local university. Internet electric, water, and refuse typically are included in the rental.
Food and drinks, however, are more costly for residents of Ottawa. A pint can be purchased for as low as $6. However, imports outside the country can cost as much as $10 in tourist areas and famous locations. Tipping is the norm (15-20 15% for exceptional service). The local sales tax is 13.5% (federal and local taxes rolled into one).
Read More: A Comprehensive Guide About Chicago Illinois Cost Of Living
Ottawa's characteristics that you might notice
Cleanliness
Living in Ottawa is be settling in a clean and lush city. A Rideau Canal runs throughout the city, providing breathtaking pathways, trails, running trails, and bike paths throughout. The canal is world-renowned because of its transformation into the longest skating rink during the wintertime. It is a huge tourist attraction and a popular destination for those in Ottawa.
Fitness-friendly
Ottawa is also a bike-friendly city, with several of the main roads have designated bicycle lanes, allowing cyclists to take advantage of a traffic-free commute. Another option is the "Capital Pathway," a 220-kilometer route shared with Gatineau. Many Ottawa natives live an active lifestyle and are often seen running or cycling throughout the day.
Politics
Ottawa is considered the capital of Canada and is the central point of the federal government. The federal government employs a large portion of the citizens in the civil service, and many establishments and bars have a loyal political clientele. Canadian politics can be intriguing and diverse, making it an ideal conversation starter while on the go.
The French connection
French is spoken in public streets, and many bars and restaurants are characterized by a French vibe. Almost everyone understands English, and while a try to learn French is acceptable in some places, it's not required.
Ottawa architecture
Ottawa includes one of the oldest and most stunning buildings, and many of them are stunning on their own. Walking along Sparks Street or Wellington Street facing the Parliament building can be awe-inspiring. Make sure you visit the free tour around Parliament to take in the panoramic panorama across Ottawa and Gatineau, the city across the river from Quebec.
Irish Influence in Ottawa
Ottawa was initially the name of an Irish and a French settlement, and the influence can still be seen. There are a variety of Irish names and places.
Interesting facts about Living In Ottawa
Ottawa is the capital city of Canada and home to many national institutions and landmarks, including Parliament Hill, the National Gallery of Canada, and the Rideau Canal.
The Rideau Canal is the oldest continuously operated canal system in North America and is a UNESCO World Heritage site. It's also used for recreational boating in the summer and ice skating in the winter.
Ottawa is known for its four distinct seasons, with hot summers and cold winters. In winter, the city comes alive with the Winterlude festival, which celebrates all things winter and attracts thousands of visitors yearly.
Ottawa is a bilingual city, with English and French being widely spoken. This reflects Canada's official bilingualism policy and is a unique feature of the city.
The city is surrounded by nature and is a great place for outdoor activities, such as hiking, skiing, and cycling. Gatineau Park, located just a short drive from downtown Ottawa, offers over 361 square kilometers of natural beauty and outdoor recreation.
Ottawa is home to several world-class museums and galleries, including the Canadian Museum of History, the Canadian War Museum, and the National Arts Centre.
The ByWard Market is a historic outdoor market located in the heart of Ottawa's downtown. It is a popular tourist destination and offers a wide variety of goods, from fresh produce to handmade crafts and artisanal food.
Conclusion
You get all the essential information about living in Ottawa. For further assistance and information, please consult your nearest expert. You can take this information as a reference.
Ottawa is reliably positioned as the best spot to live in Canada as well as quite possibly of the best 100 city on the planet. Its, serious areas of strength for variety, schools, and Canadian history make it an extraordinary spot for novices. It additionally positions as the best spot to live for new outsiders to Canada.
FAQs