Last Updated on February 22, 2023 by admin
Are you planning to upgrade your bedroom furniture in Pune? With so many beautiful and sophisticated options available in the market, picking the right one can be pretty overwhelming. But don't worry; we are here to get you going. Here are a few tips that will come in handy while selecting bedroom furniture: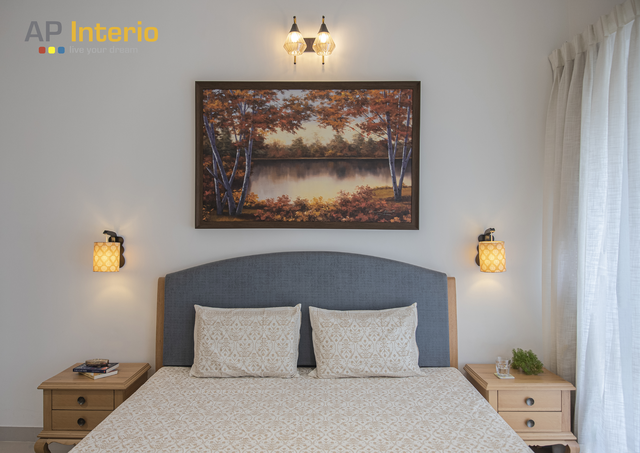 First, Consider Your Bedroom Size:
One of the most critical aspects to consider while picking bedroom furniture is the size of your room. You don't want to end up with pieces that don't fit perfectly. Thus, measure your room and note the dimensions before you start shopping.
You will also need sufficient floor space to move around while you place all the furniture. Thus, it's better to take help from modular furniture manufacturers in Pune, and they will help with custom size furnishings.
Don't Forget Your Storage Needs:
We all want to have an aesthetically appealing bedroom. But we can't overlook and compromise with the necessary storage arrangements. Your bedroom should be a cosy place where you can relax and unwind after a long day. And a cluttered room will only make it harder for you to relax.
So, while picking furniture, always keep your storage needs in mind. You can go for sliding-door modular wardrobes, dressers with multiple drawers and nightstands with cabinets. This way, you can keep your room tidy and organised. If you need a personalised storage solution, take help from modular wardrobe manufacturers in Pune. They can help you get the best furniture arrangements with effective floor space utilisation.
Choose a Style That Reflects Your Personality:
Your bedroom is a reflection of your taste and personality. And the furniture you select should complement your style. You have multiple elements to play with and define your style statement. From laminates to veneers, plenty of options are available in the market.
Think about the overall functionality of your bedroom as it will help you decide which furniture pieces to buy. For example, if you want a cosy and warm bedroom, go for woods like mahogany, teak or Sheesham. And if you are looking for a contemporary look, go for laminates, veneers or metals.
Consider Colours Carefully:
The colour of your bedroom furniture plays a vital role in creating a cosy ambience. If you want a cheerful room, go for light colours like white, beige or cream. These shades will make your room look bigger and airier. On the other hand, opt for dark colours like black, brown, or maroon for a more dramatic look.
You can also experiment with different finishes and textures to create an exciting look. Moreover, you can combine different textures to create a unique style statement. For design and colour inspiration, visit your nearest manufacturer to check out modular bed furniture in Pune.
Think About the Comfort Factor:
Comfort should be your top priority while picking furniture. After all, your bedroom is a place where you can rejuvenate. Therefore, the bed is an essential furniture piece in your bedroom. And you should pick a size that suits your needs and requirements.
If your room is spacious, you can go for a king-size bed. And if the space is compact, you can go for a queen-size or full-size bed. You can also add a bedside table and a comfortable chair to create a cosy reading nook.
Moreover, you should also consider the comfort factor while picking dressers, nightstands and other pieces of furniture. Choose pieces that are of the right height and easy to use. You will find a wide range of custom modular home furniture in Pune to uplift your place.
Always Invest in Good Quality:
When it comes to bedroom furniture, always invest in good quality. It is because the furniture will be subject to regular wear and tear. And if the quality is poor, the furniture will start to show signs of damage quickly.
Moreover, good quality furniture is also durable and long-lasting. So, you won't have to replace it anytime soon. You can get a wide range of high-quality furniture at reasonable prices. Consider it as an investment that will pay off in the long run.
Deck Up the Furniture with Modern Art:
Your bedroom is your personal space where you can experiment with different looks. And one way to do that is by decking up the furniture with modern art. For example, you can add artwork, sculptures or photo frames to the dressers, nightstands and other pieces of furniture. It will give your room a more personalised and unique look. You can also use lights to highlight the artwork and create a focal point in the room.
If you love art, you can also create a gallery wall in your bedroom. Hang different artwork and paintings to create an exciting look. It will also add character to your room.
Wrapping Up!
These are some practical tips that you can follow to pick the right bedroom furniture in Pune. Always remember to consider the overall style, comfort and functionality of the furniture before purchasing. And invest in good quality furniture to create a cosy and inviting space.
AP Interio is a leading furniture factory in Pune catering to your home furnishing requirements. We can help you pick the right decor that will uplift your space. Whether you plan to buy a modular bed, chest of drawers or buy wardrobe online in Pune, we are here to help. Get started with the best modular bedroom furniture manufacturers in Pune.